WHY No Grease!

Barbershop

Founders, Twin brothers Damian and Jermaine Johnson are second generation barbers. The trade was instilled in them by their mother who was a beautician and a salon owner. The Johnson Brothers founded No Grease! Barbershop June 1997. Soon they would be joined by Charlie Petty another passionate master barber. Together each with over 25 years of experience, these gentlemen refined No Grease! Barbershop into a business that "develops people, who develop families, who develop communities". Doing all this while holding true to all the traditions of the American Barbershop.
Own Your Own No Grease!

Barbershop Franchise
The No Grease! Barbershop Franchise Opportunity is breaking the mold in the Hair industry. We are dedicated to keeping the business model simple and the cost of entry low. Our goal is to let people experience the dream of business ownership with a proven business model and plan of action. As the saying goes, "You're in business for-yourself but not by-yourself."
With a proven business model, a network of dedicated support staff and a management team with over a combined 50 years of experience in the barbering industry, No Grease! Franchisees will always have somewhere to turn for support and guidance.
Call Today To Get More Info!
1 (888) 549-8885
Franchise

Requirements:
Preferred that you live in the market they plan to develop.
Candidates you must have a net worth of US $200,000 or greater, excluding primary residence.
Cash requirements: US $50,000 or greater (cash and securities, not including retirement accounts)
Average total investment $132,320-$277,850. (Includes Initial Franchise fee)
Experience in a service related industry with the following skills:
Developing and Inspiring leaders that creates a positive work environment.
Developing and leading a support team infrastructure. (operations, recruiting, marketing, HR)
Adhering to and reinforcing standardized operational procedures and marketing plans.
Candidates must have ability to support your lifestyle while starting a business.
No Barber experience is needed.
The Right

Industry:
Recession resistant industry
Continuous growth – Hair keeps growing, no matter what the economy looks like!
Consistent cash flow – Hair is a Billion dollar Industry.
No waste – Unlike a restaurant, nothing spoils.
Underserved market – There are approximately 323 million people in the U.S. and they all will need a haircut, one day!
Never boring!
The Right

Business Model:

"It's not your ordinary Barbershop". The No Grease! Barbershop is a system that offers a wide variety of grooming services all of which incorporate our proprietary grooming techniques, client incentive programs and our line of hair care products for men, women and children of all ages in an upscale yet casual barbershop environment that promotes social interaction. No Grease! Barbershop is the alternative to our competitors, who are largely made up of "mom & pop" shops and low-cost, convenience, salon-style shops.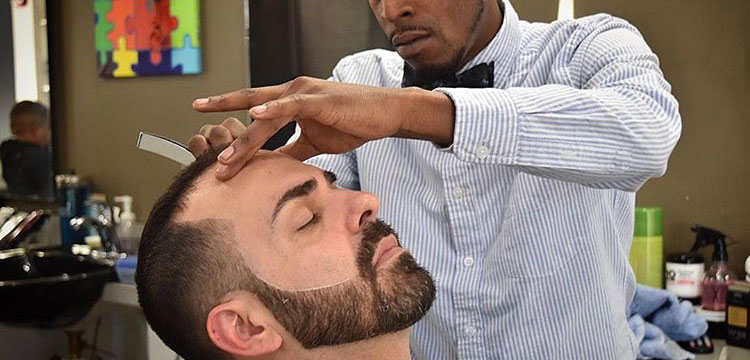 ---
Have A Question? Maybe These FAQ Can Help
Click on the question below to get the answer!
---